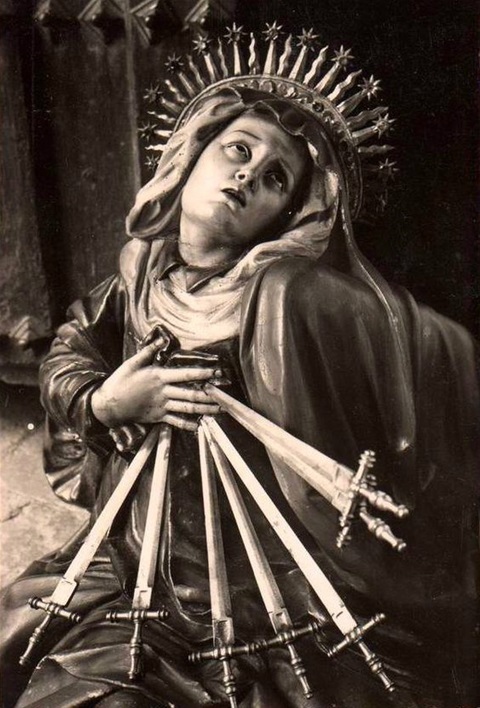 A DEDICATION TO THE VIRGIN MOST SORROWFUL

Month dedicated to Seven Sorrows of the Blessed Virgin Mary: September

Festivals of the Seven Sorrows:
(i) Friday before Good Friday;
(ii) September 15th
Behold, O Lord, my affliction, because the enemy is lifted up: the enemy hath put out his hands to all her desirable things. (Lam, i. 9, 10)

Lord, all my desire is before thee. And my groaning is not hidden from thee. (Ps, xxxvii. 10)
I. Considerations on the Sorrowful and Immaculate Heart of Mary, Martyr of Martyrs.
(Taken from the Glories of Mary, by St. Alphonsus Ligouri)

II. Seven Sorrows of the Blessed Virgin Mary
(Pray the seven Hail Marys, in honour of seven sorrows, while meditating on them. Also includes promises for the devotees)
III. The Seven Sorrow Beads/Chaplet
(Honour the Seven Sorrows of Mary by praying the richly indulgenced Chaplet of Seven Sorrows)
IV. Stabat Mater
(A sequence to Our Lady of Sorrows, from the Missal, which is sung on the feast of festival of Seven Sorrows of the Blessed Virgin Mary.)

V. Plaint of Our Lady
(A moving and heartfelt plaint of our Lady.)
VI. Devotion to the MOTHER MOST DESOLATE
(The Desolation of Mary, was a mysterious continuation of her sorrows, and the Mother most sorrowful is also the Mother most Desolate)
VII. Meditation on Good Friday, and other Fridays - to Our Lady in her DESOLATION
(Amongst all the sorrows and sufferings of our Blessed Mother, one of the most intense and the least known and venerated, is the bitter anguish she experienced when Jesus was laid in the Sepulchre and she was left alone in her desolation. Pope Pius VII, who had a deep devotion to the Sorrows of Mary, enriched this devotion with many Indulgences, recommending it to the fervent practice of the faithful.)

VIII. Litany of Our Lady of Sorrows
(Written by Pope Pius VII in his captivity, who granted a plenary indulgence to all those who recite it, with a contrite heart on Fridays.)
IX. Devotion to the Passion of our Lord
Pray for us Oh Virgin Most Sorrowful, that we may be made worthy of the promises of Christ.