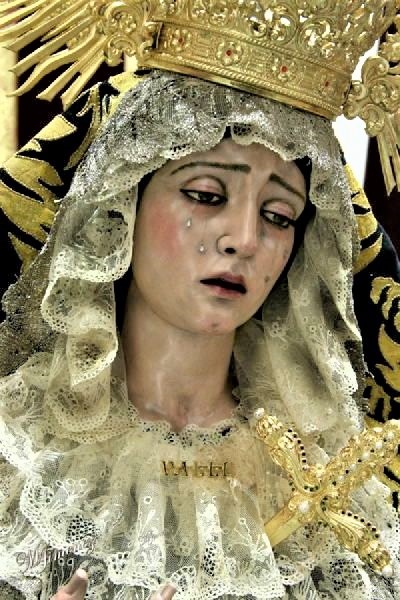 The 'Systematic Stifling' of the Message of La Salette
"How do you expect punishments not to fall on the world... they go so far as to make my words disappear and to cause suffering to the ones devoted to this Holy Cause."
"When I see what awaits the earth, my Tears flow again."
Note to Reader: The following prophecies were extracted from: "Marie-Julie Julie Jahenny, The Breton Stigmatist" by Marquis de la Franquerie, pages 26-29. To read this book, Click Here.
On 19th of September 1901 — (the 55th) anniversary of the apparition at La Salette — Our Lady said:
To-day my eyes still have a trace of the tears that I shed on that day, when I wanted to bring my children THE GOOD NEWS if they converted, but sad news if they continued with their iniquities... THEY TAKE LITTLE NOTICE OF WHAT I REVEALED... Now is the time that these great promises will be accomplished THAT THE CHURCH AUTHORITIES HAVE DESPISED.., They did not want the light!... I have suffered a great deal for all this. Pain oppresses my heart at this moment... The most painful sword right now is to see the provisions that have been taken and that are in the making... It is to see the pastors detaching themselves from the Sacred-Bond that directs and governs Holy Church...
My children, when I remember the day I brought MY WARNINGS TO THE HOLY MOUNTAIN (La Salette), to the threatened world; when I remember THE HARSH RECEPTION OF MY WORDS!... not by all, but by many. And those who should have made them known to the souls, hearts and spirits of children with great confidence, deep penetration; THEY TOOK NO NOTICE! They despised them and most of them refused their confidence…
My Divine Son, who sees everything in the depths of consciences... who saw the CONTEMPT FOR MY PROMISES, made arrangements in Heaven for a measure of SEVERITY FOR ALL THOSE WHO REFUSED TO MAKE KNOWN MY WORD TO MY CHILDREN as a BRIGHT LIGHT, true and just... when I see what awaits the earth, MY TEARS FLOW AGAIN... FALSE APOSTLES, under the appearance of honeyed words and false promises and tell lies soliciting my dear children to SAVE THEIR LIVES FROM THE STORM AND THE PERIL OF BLOOD... I assure you FLEE FROM THE VERY SHADOW OF THESE MEN who are none other than the enemies of my Divine Son! I once again refer to this immense sorrow: I SEE SOME PASTORS AT THE HEAD OF HOLY CHURCH (Our Lady shudders) ... when I see this IRREPARABLE OUTRAGE, the deadly example of which WILL BE A DISASTER FOR MY DEAR PEOPLE, when I see THIS BOND BREAKING. . . my sorrow is immense and HEAVEN IS GREATLY IRRITATED... pray for those pastors whose weakness will cause the loss of a multitude of souls (repeated three times).
When I see the enemies presenting their promises... to many of those who are Priests of my Divine Son! When I see those souls allowing themselves to DESCEND TO THE BOTTOM OF THE ABYSS, I tell you this: I am surprised as the Mother of God Almighty, that my Son does not IMMEDIATELY OPEN THE HEAVENS TO POUR OUT THE BLOWS OF HIS ANGER ON HIS ENEMIES WHO INSULT AND OUTRAGE HIM...
On 4th of August 1904, the Queen of Heaven returned again to the question because of the wish of some holy priests who wanted to make known the message of La Salette:
OTHER PASTORS REBELLED and the message was put back under seals whereas it should have been DELIVERED TO THE WORLD It was because pastors and the priesthood was the great issue that there was a REBELLION… How do you expect PUNISHMENTS NOT TO FALL ON THE WORLD... THEY GO SO FAR AS TO MAKE MY WORDS DISAPPEAR and to cause suffering to the ones devoted to this Holy Cause... I will reward my good pastors... my good servants…
Self respect is mortified I SHOW HOW MY SON IS SERVED IN HOLY ORDERS and how priests live at all times... How do you expect Heaven to bless the earth! I do not speak of ALL PASTORS, ALL PRIESTS, BUT THE NUMBER I EXCLUDE IS VERY SMALL... all the souls are allowed to drift... very little notice is taken of their salvation!... They like to rest, good living and comfort... Our dear priest victims are very few! The Holy Tribunal is looked at with indifference... they go up to the Holy Altar BECAUSE THEY ARE FORCED to accomplish THIS ACT…
On 12th of May 1896:
I have done everything I could to SAVE MY PEOPLE FROM THE PUNISHMENTS. MANY PRIESTS HAVE GRUMBLED AND WOULD NOT BELIEVE MY IMMACULATE WORD… They greatly displeased me and have offended the Holy of Holies…
And again on 19th of September of the same year:
THE PRIEST IS NO LONGER HUMBLE; HE IS NO LONGER RESPECTFUL; he is FRIVOLOUS AND COLD IN THE HOLY SERVICE. He thinks of strengthening his body when he lets souls groan without consolation... The worldly feasts will be paid for terribly in eternity... On the day of the great shake-up of My anger: MANY WILL DENY THE KING THEY SERVED. The faithless priest will not be afraid to deny his Father and put to shame his priesthood for all eternity like JUDAS. We shall see the betrayals that will take place the day that the terror will be widespread... TO SAVE THE LIFE OF THE BODY, MANY WILL LOSE THEIR SOULS!
On 29th of October 1903:
The warnings of the Holy of Holies have been disregarded... His words were rebuffed BY THOSE WHO SHOULD HAVE PROPAGATED THEM, LISTENED TO THEM AND INCREASED THE GRACE OF LOVE. THE MISSIONS THAT OUR LADY FULFILLED ON EARTH HAVE NOT BEEN KNOWN. NO NOTICE WAS TAKEN OF HER MOST SOLEMN WORDS... THERE WAS A REVOLT AGAINST HER REVELATIONS... FROM THOSE WHO SHOULD HAVE SPREAD THESE WORDS IN THE WHOLE OF FRANCE... BUT WHAT A HEAVY CROSS AWAITS THEM! A heavy burden will overwhelm them... A DISTINCT JUSTICE IS RESERVED FOR THEM...
And in 1907 Our Lord added:
Does not the SYSTEMATIC STIFLING OF MY DIVINE WORDS COMPRISE THE GRAVEST RESPONSIBILITIES! THIS IS WHY SEVERE ACCOUNTS WILL BE DEMANDED OF THOSE WHO INTERCEPTED THE MESSAGES FROM ON HIGH!
Taken from: "Marie-Julie Julie Jahenny, The Breton Stigmatist" by Marquis de la Franquerie, pages 26-29.
To read this book, Click Here.
Virgin most Sorrowful, pray for us!